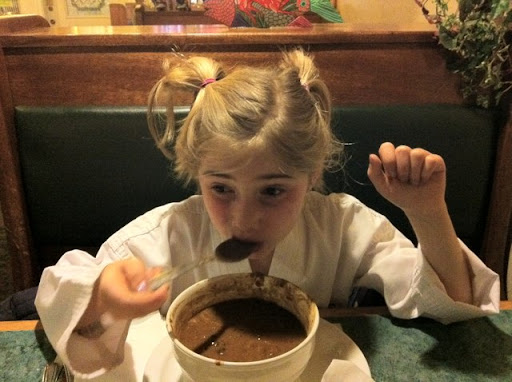 Pearl and end up doing TKD without Amy. Pearl asked if we could go to dinner. I figured, given that Amy went home early with the boys, that we would be on our own for dinner. Amy made dinner. When she called to figure out why we were taking so long and found out we were eating out, she wasn't happy. Pearl was very worried, she felt guilty and cried a bit. She remembered mom talking about dinner after the fact.
By the time we were finishing and pearl had cheered up. She said, "we are so busted." "well we should go home so mom can have enough time to yell at us." "moms going to yell at us all night, I'll miss the bus." "I'll miss school tomorrow, I'll miss everything until college! moms going to yell at us so long." "we're so busted."
Surely she exaggerates, we're off to find out.